International Conference: "Living the End of Antiquity – Individual Histories from Byzantine to Islamic Egypt"
Hosted in Basel in May 18-20 2017, this international conference will revolve around the theme of "Living the End of Antiquity – Individual Histories from Byzantine to Islamic Egypt".
Kollegienhaus der Universität, Petersplatz 1, Regenzzimmer 111
The conference intends to bridge this gap between neighboring disciplines and thus to give researchers from different fields of Byzantine and early Islamic studies a platform for mutual scientific and personal exchange. To address this challenge, the envisaged conference will apply an interdisciplinary and comparative methodology. Internationally established experts as well as young scholars will focus on change and continuity from late Antique to early Islamic Egypt through individuals' experience, putting particular emphasis on continuities and disruptions during transition from the Classical to the post-­Classical world. By focusing on individuals we aim to combine a 'compartmented' analysis with a trans-­categorical approach. The purpose of the conference is therefore to insist on the plurality that is inherent to the dialectic of change and continuity. The adoption of an individual­-centered perspective allows, on one hand, to exemplify a system and, on the other, to concentrate on aspects of diversity inside that system and, consequently, to better mirror the circumstantial character of change and/or continuity.
We plan to publish an edited volume based loosely on the conference proceedings in an international peer-reviewed series.
See also the website of the conference for detailed information.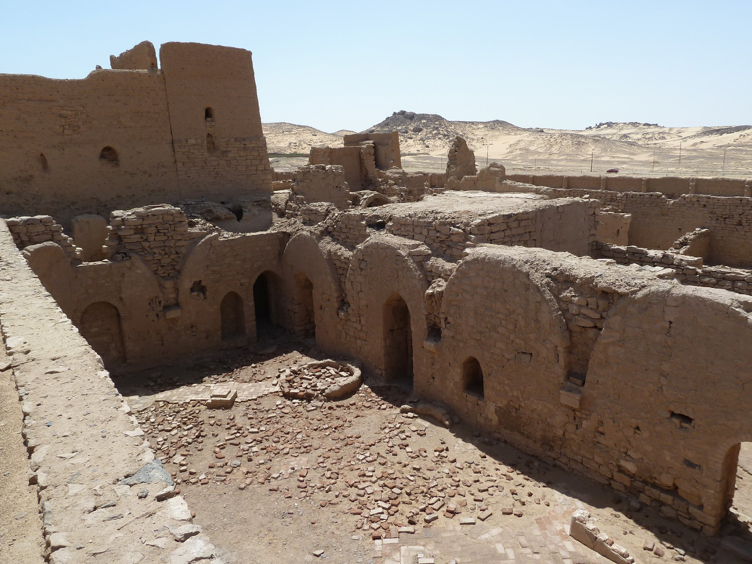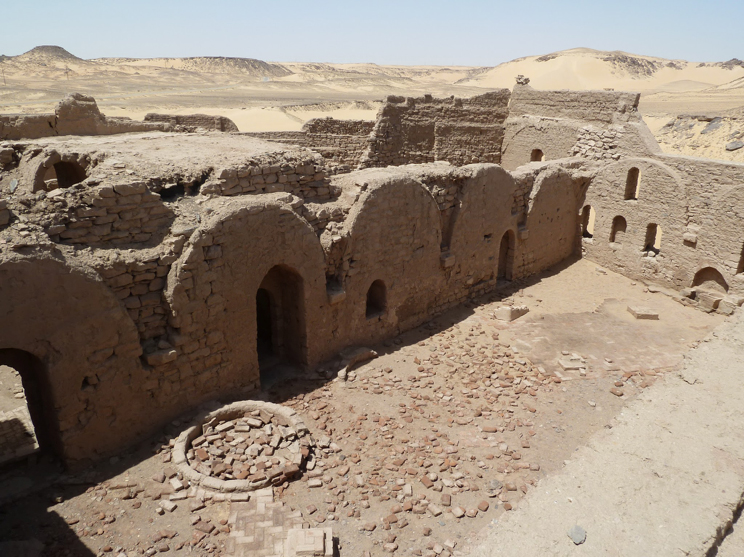 These pictures show the interior of the coptic monastery of Deir Anba Hadra near Aswan. The monastery was presumably built in the 10th century, but the area seemed to be inhabited by coptic monks as early as the 6th century. The monastery serves as an example and source for monastic life in Egypt and exchange between Christians and Muslims.
(Pictures courtesy of Kathrin Gabler)
Conference Program
Thursday, May 18, 2017
14:00 Welcome address: Sabine Huebner
Panel I: Servants to the Rulers, Masters of the Land: Governors, Provincial Authorities, and Great Landowners
Chair: Matthias Stern
14:30–15:00 James Keenan, Loyola University (Chicago), USA:
"The Will of Flavius Phoibammon and the Late Antique Mentalité."
15:00–15:30 Roberta Mazza, University of Manchester, United Kingdom:
"Portrait of a Landlord: Flavius Strategius II and the Justinian Turning Point."
15:30–16:00 Anne Boud'hors, Institut de Recherche et d'Histoire des Textes (Paris), France:
"Completing the Figure of Papas, Pagarch of Edfou at the End of the 7th Century: the Contribution of the Coptic Documents."
16:00 Coffee break
Chair: Isabelle Marthot
16:30–17:00 Andreas Kaplony, Ludwig-Maximilians University (Munich), Germany:
"Kitābī hāḏā 'This my writ': the Official Speaking as an Individual in Arabic Documents up to 800 and Beyond."
17:00–17:30 Alon Dar, Ben Gurion University (Beer-Sheva), Israel:
"The Eye of the Viceroy: Change and Continuity in the Conquest of Egypt from the Perspective of ʿAmr b. al- ʿĀṣ."
17:30 General discussion
18:00 Apéro
Friday, May 19, 2017
Panel II: Village Authorities and Leading Families: Hinges at the Meeting Point of State and Society
Chair: W. Graham Claytor
9:30–10:00 Lajos Berkes, University of Heidelberg, Germany:
"The Notary Paulos and the Last Greek Legal Documents from Islamic Egypt."
10:00–10:30 Lucian Reinfandt, Austrian National Library (Vienna), Austria:
"Petosiris the Scribe."
10:30 Coffee break
Chair: Matthias Müller
11:00–11:30 Loreleï Vanderheyden, École Pratique des Hautes Études (Paris), France:
"The Figure of Apollos, Father of Dioscorus, in the light of Coptic letters from Aphrodito (6th c. A.D.)."
11:30–12:00 Jennifer Cromwell, University of Copenhagen, Denmark:
"A Village Scribe on the Eve of Change."
12:00–12:30 General discussion
12:30 Lunch break
Panel III: Patterns of Daily Life in a Time of Change
Chair: Sabine Huebner
14:30–15:00 Nicoletta de Troia, University of Rome (Tor Vergata), Italy:
"Living on the Edge of the Empire at the End of the Late-Roman Period. The Kharga Oasis sites as a case study."
15:00–15:30 Roger Bagnall, New York University (New York), USA:
"Family Histories in Pre-transition Villages."
15:30–16:00 Judith Evans Grubbs, Emory University (Atlanta), USA:
"Slave and Free in Egypt at the End of Antiquity."
16:00 Coffee break
Chair: Eugenio Garosi
16:30–17:00 Arietta Papaconstantinou, University of Reading, UK:
"Women of Substance: Case Studies from Different Walks of Life."
17:00–17:30 David Powers, Cornell University (Ithaca), USA:
"The Abolition of Adoption in Islam."
17:30 General discussion
20:00 Conference dinner
Saturday, May 20, 2017
Panel IV: Serving God: Bishops, Clergy, Monks, and Nuns
Chair: Stefanie Schmidt
10:00–10:30 Alain Delattre, École Pratique des Hautes Études (Paris) / Université libre de Bruxelles, and Naïm Vanthieghem, Princeton University, USA:
"Monks and Monasteries in the Early Islamic Period: Insights from Documentary Sources."
10:30–11:00 Luise M. Frenkel, University of São Paulo, Brazil:
"Egyptian Female Coenobitic Monasticism during the Early Arab Conquest: Maximus the Confessor on Alexandrian Nuns in Exile."
11:00 Coffee break
11:30–12:00 Maya Müller, University of Basel, Switzerland: "A Coptic Citizen Orders a Joseph Tunic in Early Islamic Egypt (cuff trimming Museum der Kulturen Basel III 17088)."
12:00–12:30 Final discussion
Speakers
Roger Bagnall, New York University, USA
Lajos Berkes, University of Heidelberg, Germany
Anne Boud'hors, Institut de recherche et d'histoire des textes (Paris), France
Jennifer Cromwell, University of Copenhagen, Denmark
Alon Dar, Ben Gurion University (Beer­-Sheva), Israel
Alain Delattre, École pratique des hautes études (Paris), France / Université libre de Bruxelles (ULB), Belgium
Luise M. Frenkel, University of São Paulo, Brazil
Judith Evans Grubbs, Emory University (Atlanta), USA
Andreas Kaplony, Ludwig-­Maximilians University (Munich), Germany
James Keenan, Loyola University (Chicago), USA
Roberta Mazza, University of Manchester, United Kingdom
Maya Müller, University of Basel, Switzerland
Arietta Papaconstantinou, University of Reading, United Kingdom
David Powers, Cornell University (Ithaca), USA
Lucian Reinfandt, Austrian National Library (Vienna), Austria
Nicoletta de Troia, University of Rome (Tor Vergata), Italy
Loreleï Vanderheyden, École pratique des hautes études (Paris), France
Naïm Vanthieghem, FNRS, Université libre de Bruxelles