08
Jun 2023
-
10
Jun 2023
08:00 - 18:00
Location:
Alte Universität, Rheinsprung 9, Hörsaal -101

Organizer:
Dr. Gabriele Pieke (Reiss-Engelhorn Museen Mannheim) & Dr. Alexis Den Doncker (University of Basel)
Kolloquium / Seminar
Kolloquium: Portraits - Imaging Identity: Artist - Client - Beholder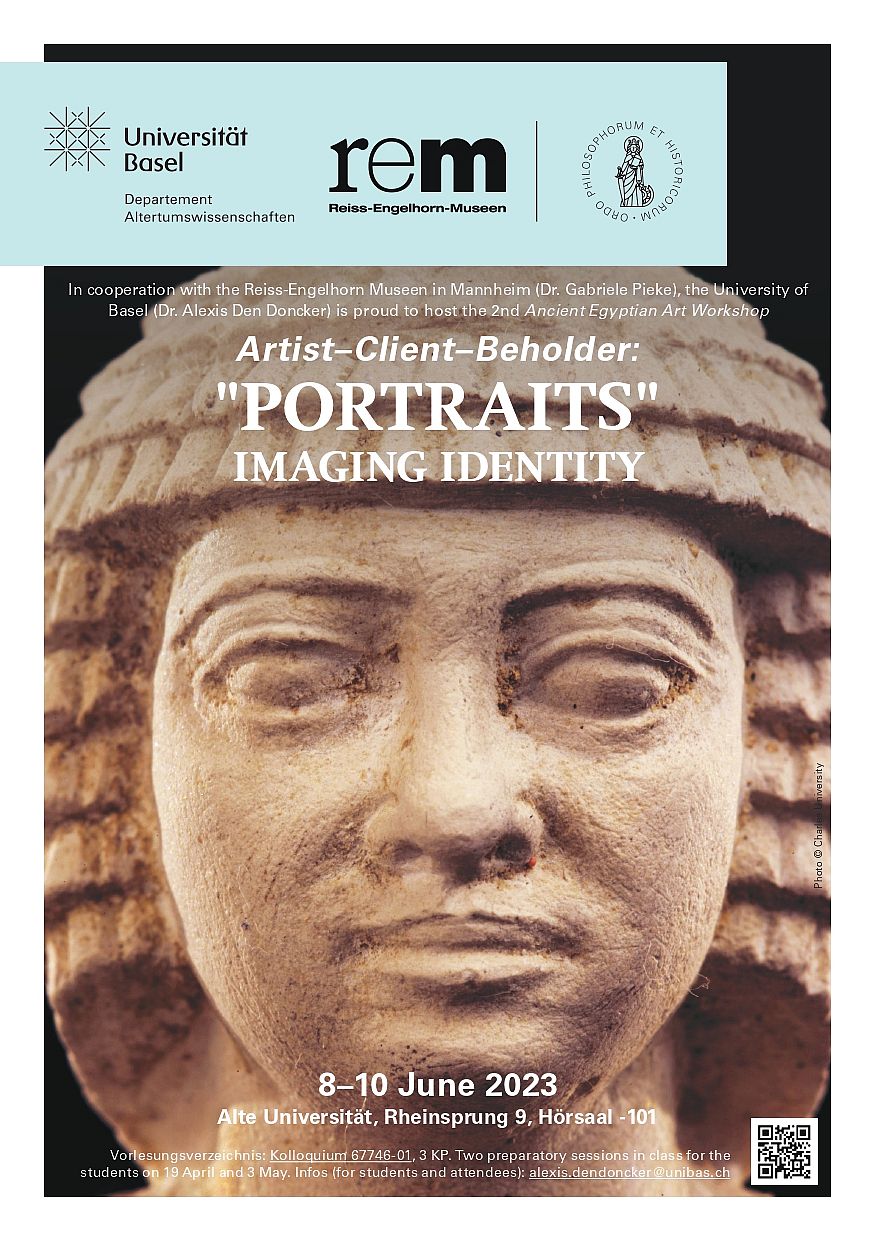 The Colloquium "'Portaits' - Imaging Identity: Artist - Client - Beholder" is the second edition of a workshop that took place in 2017 at the Reiss-Engelhorn Museen, Mannheim, organised by Dr. Gabriele Pieke. The aim of this workshop is to gather experts in ancient Egyptian art history and foster in-depth discussions on various topics related to the study of ancient Egyptian art, somehow outside the traditional boundaries of archaeological vs. philological studies. The participants are invited to present ongoing researches more than definite results with a view to stimulating encounters and thorough discussions with and among their colleagues. Moreover, they are asked to send specifically long abstracts in advance to prepare their colleagues to the discussions, so that they are already acquainted with the material evidence, etc.

This second edition of the workshop will be held at the University of Basel from 8-10 June 2023. Taking into account the relationships that ancient Egyptian art pieces—or objects—share with their original commissioner, creator and beholder (= the topic of the first edition), the discussions will focus on the complex issue of portraits, from two- and three- dimensional representations (tomb decoration, temple reliefs, sculpture, etc.). In this regard, problems related to strategies of self-presentation will be addressed, questioning notions such as type, style, realism vs. idealism, mimetics vs. semiotics. As the concept of portrait is still often tied to realistic and naturalistic depictions (cf. Fayum portraits), one of the possible outcomes of the discussion will be to test how this term can be relevant to Pharaonic art production as it has long been the source of disagreement among the scientific community.
In order to provide the students with sufficient background so as to make them able to follow the discussions and perceive their scientific challenges, two preparatory sessions will be held in the Schnitz S01 before the Colloquium on 19 April and 3 May 2023.
These two sessions will consist of an introduction to questions of typology, style and self-fashioning in Egyptian art.

Export event as iCal